Merging the Absurd (Rallying) with Us (Crazy) – SportsCarHunter Joins a Rally #RallyPulse
by
sportscarhunter
on
Aug 20, 2012
•
5:08 pm
2 Comments
Over the next few weeks, we are going to take you from the genesis of the endurance road trip to the modern international road rally. Each day we will share a bite sized history lesson about the development of this motorsport. We hope that you'll join us for this absolutely fascinating ride.

This is post 1/5 covering our participation in the 2012 Dustball Rally.
This spring we discussed the history of rallying. Starting with the legendary Cannonball Baker we covered a variety of topics from the REAL Cannonball Run to how a failed F1 bid started an open road renaissance. From May to July we saw:
The Gumball 3000 go from New York to Los Angeles
The GoldRush Rally take their first flight from Las Vegas to Atlanta
The Bullrun fund the police departments of the entire western United States
These rallies gave us mouth watering photos, videos, and cars to debate. We asked, "What would be YOUR ideal rally car?" We had a great time covering those trips but it was not enough. We needed to experience this ourselves.
We Were Meant to Really
Sports Car Hunter is based in Dallas – Fort Worth, Texas – where the sunny weather is a sports car heaven. With that said, fast cars really aren't anything special in this area of the United States. On an afternoon in fall 2011, I spotted an Aston Martin Vantage Roadster. A great car? Yes. Super special? No. This Aston was different though. It looked mean. Why? It had been on the Dustball Rally.
A few months later, in the winter of 2012, buddies stopped by to watch Love the Beast over pizza and beer. Standard stuff really. Before we started the film I put on some classic Bullrun montages, the latest GoldRush installment, a few Gumball 3000 books… All the NORMAL things on a car lovers shelf, right?
All of a sudden one of the guys yelled out, "HOLY SHIT, THAT'S MY 7-SERIES!!" Sure enough, when we slowed the video down, the BMW that rally extraordinaire Richard Rawlings drove in the Bullrun was indeed the car in question. Rawlings must have sold the car post-rally and, low and behold, it fell into our hands.
Some crazy times were had in that Bavarian beast! It all made sense to us now – rallying was in that BMW's DNA and the bug had been passed on to all of us. Our next seven months would be spent planning how to make rallying (already absurd) crazier (by adding us).
Our Right to Bear Arms
Within a few weeks our entry forms were submitted to the 2012 Dustball Rally from El Paso, Texas to New Orleans, Louisiana. It was in our back yard for crying out loud! It was all we talked about.
In time our group would hit a few roadblocks and fell to three cars. Nevertheless we had a great alliance of automotive power: an Aston Martin, a BMW, and a Lexus. With our driving team three deep, we had to weaponize it appropriately. We would pick up a number of expensive and evasive countermeasures – but those sorts of items are standard to any aggressive driver. For the 2012 Dustball, we had to think outside the box.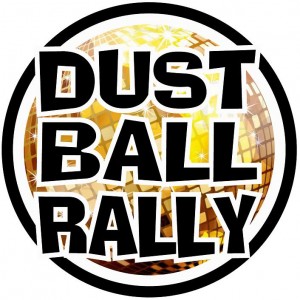 When we realized the rally ended in New Orleans, we pictured Bourbon Street and Mardi Gras beads flying everywhere. Team Sports Car Hunter immediately ordered 3,600 Mardi Gras necklaces. Yes, you read that right, three thousand and six hundred.
We bought Blue, Red, and Silver for the United Kingdom's Aston Martin – Black, Red, and Gold for the German's BMW – Red and Silver for the Japanese's Lexus. These had no purpose other than our faith that the rally would be more fun with 3,600 necklaces at our disposal.
Next we placed an order for 200 koozies. Given that our teams consisted of former fraternity men this was a no brainer. No event should EVER fall victim to warm beer. Our college studies taught us that koozies + cold beer = happy ralliers. We would not disappoint.
The third item in our arsenal would be 250 SportsCarHunter stickers. Why? Because rallies offer a unique opportunity for brands to expand their influence across thousands of miles. We love posting ridiculously fast cars on social media and want to do more of it. The rally was a great opportunity to find a few more speed freaks! Their cars would join our cause.
Finally, the coup de grace of our war chest – Monopoly Money. Now this may not make sense to many people NOT on the 2012 Rally. That's fine and I promise, you WILL understand if you read this post and our subsequent Rally Recap articles later this week.
Speed Past Go and Collect $200
With the economy being ruined by Toyota Prius', America is in dire need for a hero. I nominate Rich Uncle Pennybags. Why? Because Rich Uncle Pennybags is too rich to care about all those bad things on the news.
We all need a Rich Uncle Pennybags to take us by the hand and say, "Stop caring about the world falling apart, relax a little, here's $200 for passing GO – have a nice day!"
In the crazy world of rallying this makes COMPLETE sense. Drivers are going too fast to care. A snake of eight sports cars cuts off a minivan on two lane road? Sorry, we're in a rally. Our bad. Going the wrong way on a one way street? Sorry, we're in a rally. Our bad. Police blockade along your morning commute. Sorry, we're in a rally. Our bad.
Without getting into too much detail – I went ahead and collected $1,000,000 worth of Monopoly Money over the course of seven months. That's 60+ games worth, over 10,000 individual pieces of pastel paper. We had about 75 stacks off 200 bills each going into the rally. We were going to use it as big confetti every time we hit a 100 mph. It was an idea so silly that there was no way anyone could get mad at us for it.
Why did we get tens of thousands of mardi gras beads, koozies, stickers, and Monopoy Money? Why the hell not! We embraced the excess, simply because Dustball Rally.
Two Days Before El Paso
On Monday July 31st, 2012 we placed our rally vinyls in a 120+ degree garage. The #26 Aston Martin Vantage Roadster looked mean, taking a cue from the racing team with a Le Man's snarl.
It was a miracle the #85 BMW Z4 3.0si Roadster even made it to Texas. It had just survived a five week-long, 3,000 mile, ordeal of engine rebuilds and deer mauling – literally hitting a deer on a Pennsylvania highway a week before the rally start.

Unfortunately our #25 Lexus had to back out at the last minute. No matter, we had two rally cars prepped and ready for action.
The next day our team, plus five other DFW cars, were driving 500 miles to the start line in El Paso.
Check in tomorrow for Post 2/5 – DIE FIENDEN PILOTEN and the night before the 2012 Dustball Rally!
Thank you for reading: Merging the Absurd (Rallying) with Us (Crazy) – Team SportsCar Hunter Joins a Rally #RallyPulse

Please share this with your friends and check us out on social media.
-Sports Car Hunter Ry
Tags:
2012DBR
,
7 series
,
aston
,
aston martin
,
aston martin vantage roadster
,
bmw
,
bullrun
,
bullrun rally
,
cannonball baker
,
cannonball run
,
cars
,
dustball
,
dustball rally
,
dustballrally
,
Eric Bana
,
F1
,
goldrush
,
goldrush rally
,
gumball
,
gumball 3000
,
Love the Beast
,
rally
,
rallying
,
rallypulse
,
road rally
,
sports
,
sports car hunter
,
sports cars
,
sportscarhunter
,
vantage
,
vantage roadster