Over the next few weeks, we are going to take you from the genesis of the endurance road trip to the modern international road rally. Each day we will share a bite sized history lesson about the development of this motorsport. We hope that you'll join us for this absolutely fascinating ride.

This is post 3/5 covering our participation in the 2012 Dustball Rally.

8/1/2012 – Dustball Rally Day 1
6:30 am My cell phone is shrieking. Again. This feels like Groundhog Day. I spent too much time last night cleaning out the car in the hotel garage. We had crap everywhere. Wires, 5 Hour Energy Bottles, protein bar wrappers, Mardi Gras beads, sunglasses, and a shit ton of Monopoly Money.
We literally had no space. The beads were taking up a good third of the trunk. #15 Team Saint Mini empathized with our situation and graciously offered to store beads, Monopoly Money, and an empty gas container for the next day. We could breathe tomorrow.
"Four and a half hours of sleep is better than three", I said to Marcus as he donned his bomber jacket.
Weeks ago we had set up a plan of German military excess. Day 1: Cannonball Pilot/Bomber uniforms. Day 2: German National Soccer Team uniforms. Day 3: vintage German military fatigues.
"Dammit, I wish those uniforms would have arrived on time!" Marcus grumbled as he spat out a sip of hotel room coffee. "Spshhhh, and the coffee is shit too!"
The World War era uniforms we had ordered shipped late. I was relieved at first, but I  now echoed my navigator's dissatisfaction. I wanted to blitzkrieg after watching #17 Team Siebzehn ham it up for the news cameras in front of their, very American, Chevrolet Z06.
Nevertheless, my pilot hat with a real Cannonball Run patch would suffice. I quickly place a "Free Parking" and second set of aviator wings on my pilots sport coat. Marcus had just finished situating his driving cap and goggles as well.
6:45 am We spy a few DFW teams eating breakfast in the lobby. "No need to rush guys" they suggest. Pros. I want to look cool too but I've been waiting seven months for today.
6:50 am We are late and our fuel is low. I swing into a gas station and fill up. Marcus walks out with a fresh coffee.
He spills half the cup as I drift into the road. I apologize, "Sorry, it's just the traction control dash alerts on BMW look like so much fun lit up!" He used to have a 7-series so he empathizes, "That warning light is badass."
6:59 am I speed into the park. There's a group of police motorcycles waiting to parade us out. Where to? We're not sure. Hell, nothing looks familiar around here; we've never been to El Paso.
7:10 am For as much organizing I did the last night, the car is a wreck from leaving the hotel in such a hurry. I take time to sort out our on-board HD video camera, other electronics, and ammunitions.
We are parked next to the black #96 Team Rush Hour Bentley Continental GT. Marcus is in awe. We have had an ongoing argument over the last three months as what would be the ideal rally car would be. He is dead set on a Supersports whereas I point out that a DB9, DBS, Virage, or Rapide would take you there in style. I use the parking spot as an olive branch to my navigator, plus these guys seem cool.
"Hey what's going on guys?" One of the huge Bently Bros asks. "Just call me Jackie Chan, and that big dude over there, call him Chris Tucker!" One guy was Asian, the other was black. They were bros, and knew how to be funny. I pass them our extra remote radio. I'm doing this half for Marcus and his constant bitching about Bentley's and half for us to make friends with the biggest dudes on the trip. If I was going to piss anyone off throwing Monopoly Money at them, it would help to have two giants on our side.
7:35 am The camera crew asks everyone to gather at the edge of the parking lot. We take a group photo. I remember looking at last year's Dustball Rally group photo…it seemed boring. I turn to David, "Hey man, what if we added some confetti to this photo op?" His reply seals the deal, "Hell yeah! Get on that!"
I run to our roadster, thank God the top was down, and rip out a few stacks. I start handing them out to everyone around us. The cameraman counts down. 3…2…1…Money is flying everywhere. I pat David on the back, "Good call buddy, plenty more where that came from!"
7:50 am The #07 911's driver, Andy, is giving us Day 1 instructions. I'm not listening. It's a chilly August morning and we are standing in a park overlooking the entirety of El Paso. It's breathtaking. I have no idea where we are heading; hopefully Marcus can decipher the directions. Each days destinations are unknown on the Dustball Rally. We have to figure them out along the way.
I look over at Marcus, his map is out. It covers over half of our Hot Wheel sized rally car.
7:58 am The motorcycle police are already leading away. I squeeze in line behind the #96 Continental GT. The CB and radio are lighting up with chatter. Everyone on the rally is jumping in on our frequency. I start to worry that secondary channels will be used by the veterans in order to outsmart everyone else. I cycle through every channel, just in case I can hear something. I had been the one to suggest the group frequencies during the briefing. "I need to talk less" I say to myself. Marcus isn't listening, as he his fully engrossed in the route and gimmicks for the day.
"Dude, I don't know the answers ANY of this shit!" He exclaims.
8:00 am The #66 Fire Truck is getting pulled over. We had been warned by Dustball veterans that there would be a lot of police activity on the 2012 Rally. I don't know whether to laugh or cry at the thought of someone getting a ticket two minutes in.
8:02 am They get off with a warning.
8:05 am I tweeting "Our flight formation goes Aston, Lambo, Bentley, BMW, Aston." We are feeling really freaking cool, and want everyone to know about it.
8:06 am We are driving up what might be a mountain, just outside of El Paso. I look to my right and can see for miles! Over the radio I hear David in the #26 Vantage, "DO YOU HEAR THE TWIN TURBO???"
We definitely hear it. Team GOP in the #51 Lamborghini Gallardo is flexing its throttle, begging to be shifted. He gets some space at a crest and…WRRRRRRRRIIIIRRR. It sounds magnificent.
8:10 am Marcus has our next 300 miles planned out. He thinks we're skirting New Mexico in the Guadalupe Mountains then heading south to Marfa, Texas. He's giddy as a schoolgirl about the possibility of seeing the Marfa Lights.
8:21 am I'm tweeting, "Excuse us as our expensive sports cars drive through good citizens." These police are literally driving light to light and running pedestrians off the road. They're kicking cars that don't slow down fast enough – just like in a video game. It is unbelievable – like having six fullbacks on motorcycles everywhere you go.
8:25 am A red, non-rally, BMW 3 series tries to jump our caravan and nearly causes a Range Rover/Lamborghini/Bentley/BMW/Aston Martin pile up. "Maybe we should leave a little more space in between our bumpers." I laugh.
8:40 am There is a red light ahead, I toss out some Monopoly Money and I joke, "In Dustball Rally WE don't have to stop at these."
BEEEEEEEEEEP!
Cars are honking at me like I just ran over a puppy. "Oh shit! We don't have the police escort any more, do we?!"
"Ha, guess not!" Marcus deadpans. We toss out another stack. It seems appropriate.
9:15 am We are about tenth in line at a border checkpoint and I have had to piss since the parade around El Paso. The last half hour was something you dream about. We were running full throttle with magnificent automobiles. Accelerating up to a corner, trail braking, hitting an apex, then powering out. The energy was palatable. But now? Now I had to pee. Really, really bad.
"Will you take the wheel? I'm going to piss." I ask.
"Dude. Horrible idea. They will arrest you."
"No one ever argues with diarrhea." I tried think of a better reply, but this seemed like it actually may work, so I decided to use it as I walk up to the Border Patrol.
"HEY RYAN! I spin around and see Tony in the #76 STI. "Ahhh, I thought you were bringing me some Monopoly Money. Damn! Oh, by the way, Andy just got on the CB. He says no one, absolutely no one, is to get out of their car at the check point."
I promise to give him some fun dough at the next stop.
The Patrol yells out at me, "DO. YOU. HAVE. DRUGS?"
I am a mid 20's white as can be male, wearing a pilots hat, and pilots sport coat. My mind races at the funny answers I could provide. My better judgment takes hold, I plead the shits, and they let me pass. Seriously though, I may have pissed myself.
9:30 am There's about a dozen cars lined up in an impromptu car show, fifty feet from some guys getting arrested at the border checkpoint. I share handfuls of Monopoly Money and Mardi Gras beads with a few teams at the absurdity of the situation.
9:31 am I give Tony his allowance of Monopoly Money for the next 150 miles.
10:50 am Our range is 30 miles. We are in the middle of nowhere Texas. Literally. We haven't seen an anything for about eighty miles. The Rally had just exited the Guadalupe Mountains. The road may have skirted into New Mexico. I honestly couldn't tell you where we were. Cars were averaging 100 but everyone cut loose smartly and respectfully. When the roads got twisty each team let up a quarter mile so the guys in front of them could give it a run. No one gunned it when they saw oncoming traffic. Still, we made those mountains our personal Dustball Rally Roller Coaster.
There were some new cars running with us. Team Team March Hare in their black #30 Cadillac CTS-V, Team Flying Squirrel in their orange #77 Camaro SS, Team DLR in their crimson #14 Pontiac G8, Team Rojo Rapido in their red #45 Porsche 911 Carrera, Team Costa in their #97 Porsche 997 Turbo… In addition to our teammates in the #26 Vantage and our buddies in the #51 Lambo, #00 Aston, #76 STI, & #96 Bentley Bros.
Team SportsCarHunter sure to introduce everyone new to our Monopoly Money, one by one.
Crazily enough, the #66 Fire Truck is ahead of us leading a two team push with a black rally Dodge Charger.
"How the hell do those two cars get in front of everyone?" I ask.
"They have bigger balls than we do." Marcus responds.
11:00 am The #77 Camaro SS is sputtering out of gas but we're u-turning out of the strangest, middle of nowhere, gas station I have ever seen. There are four 87 octane pumps in the middle of a gravel lot. No sense to fill up with low grade when Marcus' logbook says that there is a city within range. We follow the #00 Aston out.
We see the #66 Fire Truck running back to the strange pumps to fill up a jerry can for the stranded Charger. They're out too.
11:05 am It's us and Team W0T's #00 Aston Martin Vantage Roadster making a speed run to a town called Pecos. We're both low on fuel, but #00 is driving like he stole it. It's fun keeping up, but I begin to question our straight six versus his eight cylinder on some of the crossover overtakes.
"We need to build up more momentum than he does." I remark .
"Or just let him go?" Marcus suggests.
I'm nearly at that point myself, but this was a Dustball veteran, and we had the opportunity to earn some rally stripes. Our "Check Engine Soon" light just came on as well. I ignore the warning and keep the pressure on.
11:30 am We are in Pecos, Texas. It's about the size of a thumbtack. I make a mental note to Google Map this place when I get home. I can't do it now, it feels like winning the Powerball when I get two signal bars on my iPhone.
Us and the #00 Aston arealready filled up by the time the rest of the group arrives. I run inside and buy a candy bar and dried kiwi.
"I am so. Freaking. Hungry." Laments Marcus when I get back to the car.
"Dried kiwi?" I offer.
He looks at me like I am on Bizzare Foods.
"Well, of all the places to try dried kiwi for the first time I think Pecos is a damn fine choice.
He drops a handful of Monopoly Money out the window.
11:40 am The #96 Bentley Bros break off to do some gimmicks with another group of cars. I'm conflicted. It's going to be tough stay in a lead pack and answer gimmicks at the same time. We commit to answering as many as possible, but it's hard to argue leaving such a fine group behind. We stick with the original group.
12:45 pm We are pinned in the lead pack of the snake. In front of us is the orange #77 Camaro SS and directly behind us is the silver #97 Porsche 997 Turbo Cabriolet. Somewhere behind the Porsche is the … Who knows, we lost them a half an hour ago when we entered these rolling hills.
The #77 Camaro SS has tires as wide as a Kardashian's ass and the #97 997 Turbo requires acceleration in the corners to grip the road. Our #85 Z4 3.0si Roadster is like Rudy if he could ever get on the field.
This road is merciless. We can see just far enough ahead to accelerate after every apex and the #27 997 behind us is agile enough to draft us into every corner. I am in full bore sport mode. Marcus has not said a word in fifteen minutes. I put my palm in front of the air conditioning vent on every straight. I am drenched in sweat.
Accelerate. Turn. Tail brake. Full bore. Tail brake. Turn. Up Turn. Down. Turn. Full bore…This goes on for the better part of a half hour.
I think we're booking it, but can't be bothered with looking down at the speedometer.We are dead in the water if I take my eyes off what's ahead. This is some of the most fantastic, balletic, driving I have ever accomplished.
The #85 Z4 didn't deserve to be nestled in between those orange and silver beasts, but we were damn proud to be driving in a podium group. We are pushing our car and abilities to the absolute limit. "Marcus, make a note to buy a stickier compound tires if we ever did this again." He taps the logbook and gives thumbs up.
1:45 pm "We have to be getting close to Marfa" I inquire to Marcus.
He takes out the logbook, and cues up the CB. "We're supposed to be going to Marfa, but that's definitely nowhere close." SportsCarHunter's #26 Vantage is also losing it's brakes and needs fluid. I pull into a gas station and asses the situation. We're lost but I'm strangely happy at this. Our handicapped fuel capacity is being negated by each wrong turn. It seems like we are filling up every 100 miles.
Half the pack decides to backtrack and follow the predetermined route, while we stick with what's left of our DFW clan and pick the most direct path towards our destination.
2:45 pm We're driving through the strangest topography I have ever seen. It's like we are on Mars. We are gaining elevation, but the mountains around us are crumbling. We are in a desert, but there's sparse vegetation. We are at the edge of Big Bend National Park, and all the roads are freshly paved.
In our pack is the #96 Bentley Bros, #00 Aston, #41 335i, #44 Mustang GT, #76 STI, #14 G8, plus in the #26 Vantage / #85 Z4.
It's a fun group. We are all enjoying the strange, dry, and desolate scenery on roads that are opening up. There are long straits, maybe close to a mile at a time, where we egg each other on, but we can't see too far to surpass our rally average of 110. We are gaining elevation, as posted signs are telling us of the increasing height of each mountaintop.
2:55 pm We are fourth in the pack, dead middle, when I edge the wheel left and crest a bend. I turn off the radio.
"UHHHHH" is muttered by someone over the CB.
"BLASTOFFFFFFFFFFFFF!!!!!!" another team slowly replies, absolutely awestruck.
We are looking down at a valley with three highway stretches at least five miles long per. Back to back to back. There are no other cars as far as the eye can see for 20 miles.
There is dead silence aside from seven thunderous engines instinctively flooring it.
Never in my life have I experienced a moment like this. Each team staggers into a lane. Right, left, right, left, right, left, right. The faster cars are already up front so no worries there.
2:56 pm I am rattled by the past two miles and pull back. My hands are shaking.
We ease around the first corner. I waste a few moments collecting myself then switch to the left lane after triple checking for no oncoming traffic. 90. 95. 100.
Marcus sits up. He knows what's about to happen. He begins to coach with one eye on the road, the other on the GPS for speed.
"105", we are fast approaching the #26 Vantage.
"110. 115. 120. 125."
We fly past both Aston Martin Vantage Roadsters, back to back.
"130. 135."
The second turn is about a mile out and the #44 Mustang GT is about to brake.
"Ease off." Marcus calmly instructs. "Now edge on the brake…"
The Z4 gets down to the mid 70's for the turn and takes its place on the far right side. We managed 139 before running out of road.
"139? Why not 140? 140 just rolls off your tongue." I remark.
"We hit 140. I saw the speedo…we had 145+ on that." Marcus encouraged.
BMW's are known for their generous readings at speed. Did we make it? I don't know. The truth lies somewhere between 139 and overzealous German engineering.
3:02 pm We just covered 20 miles in what seems like three minutes, given our terrain and speed. It's plain, flat, and in the distance there's always a decaying mountain.
3:05 pm There's a twisty up and over a crest ahead, it looks promising.
BEEP! BEEP! BEEP! The detector is going batshit insane. Our entire group was just hit with a Ka Band. There's a police Suburban passing us in the opposite direction.
I ask, "Did we slow down enough?"
No one can answer for sure over the CB, but the sheriff is pulling a u-turn behind the #76 STI. He's tailing him.
3:07 pm The sheriff is passing us up now. He's looking for the lead car, which was Team W0T in the #00 Aston. Yep, he's pulling him over.
3:09 pm The CB crackles, "YOU BOYS LIKE MEX-EEEE-COOOO?!" It's the #00 Aston. We're laughing, relieved that the whole caravan wasn't pegged at once.
3:15 pm We pull in to a general store. It looks like it's out of a western. The door to the store says "OUT TO TOWN. BE BACK AT 3:30."
"Where the HELL is town?" a Bentley Bro asks.
We discuss our options. Continue on the final 100 miles to our anticipated destination in Presidio, TX, or wait for the guys who were pulled over? Someone in the group emphasizes, "They drive fast enough to keep up."
An elderly lady had just walked outside from the general store as we pull away. "Hahaha! She just lost her only sale of the month!" the CB remarks.
4:00 pm The #44 Mustang GT and #76 STI have pulled away from the rest of the pack. Marcus points out, "We have NO idea where we are going. Those guys seem to at least have a clue. We NEED to catch up with them." I look ahead and behind us. The rest of the group #96 Bentley Bros,#26 Vantage, and #14 G8. None of us have any idea where to go. I hit the accelerator hard. We had been laying low for 15 minutes. Time to book it.
4:15 pm "Look, over the next turn, it's the Mustang!" Marcus shouts. We were close to catching up, maybe another mile or so and we'd be with them. Around the next turn, out of nowhere, is a Dustball Rally flag. I park in the lot next to the organizers #07 911, our DFW friends in the #43 Corvette and #44 335i had already been there, even beating the sprinting #44 Mustang GT and #76 STI.
4:16 pm I try tweeting out, "Day 1, Fifth Place" but I have no service. Later on I would be thankful that the message never got out. We had just driven all day with each team respectfully allowing space between cars, signaling at every opportunity, mostly passing when the dotted lines allowed, while always stopping as a group any time there was an issue. This wasn't a race at all. Yes, we all went fast, but no…this was Dustball Rallying.
4:22 pm We are at Lajitas Resort. This place is incredibly nice. I consider taking a swim in the huge fountain outside everyone's rooms. "Later" I say to myself.
I was cleaning the car out, dumping out beads and koozies on a bench in front of our room, and then go to meet up with the guys at the bar.
Blake, of the #00 Aston ticket fame, laughs, "How in the hell this place stays profitable is beyond me." I was thinking the exact same thing.
I'd like to stay in the Cantina longer, but there's a top speed run sanctioned by the area police department at 4:30 and I already cleared the #85 Z4 completely out aside from a lone GPS.
5:27 pm I find out that the route we took was indeed the wrong way. The correct trip would have taken us through Marfa, down to Presidiio, and over an apparently incredible river road to Lajitas. The top speed run would be back where "Blastoff" occurred. I had tasted 139 before having to pull back and wanted to slay the unicorn. We were going back.
David and James in the #26 Vantage couldn't go. Brake fluid was spilling into their entire wheel well. An issue like this could sideline them for the entire trip. There was no Aston Martin dealership for hundreds of miles, but they decide to take it to the nearest town, Terlingua, hoping that a garage is open.
5:05 pm The state trooper who pulled over the #00 Aston is speaking to us, "Sixteen miles. You'll end at Trashcan Hill. When you see the police lights flashing, slow down."
Marcus and I are wearing our leather racing caps and driving goggles. We are doing this like a real roadster should. The #43 Corvette thinks we are crazy for wanting to do a top speed with the top down. I argue that we hit 139 earlier with it up and it was time for a change. We are the only convertible in the group.
There are a handful of cars with us. There's the red Range Rover Sport filming, then the orange #77 Camaro, Team Jesus Christ in the blue #32 VW Golf R32, the black #41 335i, us in the black #85 Z4, the silver #43 Corvette, and the black #96 Bentley Bros.
5:21 pm The #44 335i takes off. We're next. The sheriff walks up to us, "Don't you boys make my highway messy!" he jokes.
"You do know he's being dead serious. He doesn't want to pick up our body parts all over the desert." Marcus deadpans.
I look over to Andy as he waves the Dustball Flag. The tires are scrubbing the road. The 3.0 lets out a war cry. We are accelerating.
In a flash we cover the first straight, I carry as much speed into the corner as I possibly can, trying my best to imagine little green, yellow, and red Forza triangles on the road. I hit the apex and slide back into the right lane. I want to drive in the center but Marcus constantly reminds me, "Over, right. Over, right."
He's letting me attack it. I imagine he's scared shitless as a passenger doing 120+ without a roof.
We're in the second straight, this is where we hit our top speed two hours earlier. I'm giving it everything the car has, but we've just gone two straight miles at 139.
"Second corner, ease…brake…brake…BRAKE…go go GO!" I hear in true navigator grandiose.
I want to give it more but I ease up on the final straight. We weren't going to hit 140. The car had been run to the absolute limit today, and a combination of the top down, the uphill elevation, and the "Check Engine Soon" light was too much for us to gain that extra MPH.
5:28 pm The other teams are showing off their high speeds when we pull in after 16 miles of absolute insanity. 170 for the #41 335I? #43 Corvette got 175? #96 Bentley Bros north of 180?!
5:40 pm I ask Marcus to take the wheel for the first time. I need to ride shotgun for the next 40 miles back to the resort, plus he needs to say he drove.
5:54 pm We are poking along at 85. He's never driven the Z4 and we're spending time getting him acclimated to the cars tendencies. All of a sudden there is a screeching howl as a blue spark spits past us.
"What in the HELL was that?" I shout out.
"Team Shchlitzilassshits" Marcus replies.
Team Siebzehn in the #17 Vette Z06 had just passed us like we were standing still. We were going 85.
6:02 pm The Z06 is parked on the right researching a gimmick. One of them runs to the roadside and taps his watch as we coast by – mocking the time discrepancies between our two cars. I am laughing out loud, "Assholes!" but I can see myself doing the same thing.
6:30 pm Marcus has not eaten all day and taps out. I drop him off to continue down the river road we missed earlier in the day.
The road literally snakes alongside a river that signifies the border between the United States and Mexico. Two miles in and I park to take a few photographs. I am in awe.
6:40 pm I am winding along these twisties with a grin so big that my face is hurting. Up, over, right, down, up, left, straight, dip, dip, down, left. I've never been on this pavement and I'm edging the line between tentative and audacious. I work my way to a mountaintop and stop at the peak.
A four-person team in a Scion drives by with their windows down. "Stay another half hour and watch the sunset!" He shouts.
6:52 pm Down, right, left, dip, down, up, left, left, up, bridge, right, up, dip.
6:57 pm I am taking more photographs. "There needs to be a Top Gear episode on these roads. Transfagarasan Highway be damned."
7:20 pm There's a dead straight ahead of me…maybe a mile. I reckon that I'm a dozen miles from the resort. The road graciously dips three times ahead. I feel no need to speed through it.
"It doesn't get any better than this," I tell myself "You don't need to go any further. Leave the rest of the road ahead."
For the first time in a long, long while, I am content with everything. I know this is going to be one of the moments in my life that I never forget. I say a prayer, write out a note, and take it all in.
I'm getting choked up and decide to walk to the edge of the desert. The car is still running but I don't even realize it. My mind is on another level. I return to the road and sit on the double yellow line.
7:35 pm The sun sets.
7:40 pm Up, left, dip, right, down, right, right, left, up, dip, up. The moon is rising and I am running away from the daylight. I spot a deer ahead and take the last few miles of the river road easy as I return to the resort.
8:15 pm I'm eating dinner as David, James, and Tony talk cars. I'm still in another place but the first real food of the day tastes amazing but it's more Mexican. David senses my thoughts, "Dude. No. More. Mexican." I nod my head in agreement.
10:20 pm The power in Brewster County is on a rolling blackout. The only place in the resort that has a/c is the cantina. It's packed. Our Team SportsCarHunter koozies are everywhere. David and James are getting hammered talking with the other DFW teams. "Aston butt-love" Marcus jokes.
10:40 pm The #14 G8 newlywed's buy #76 STI Tony a shot called Cruz Azul, should be called death in a glass. Didn't even have all the ingredients. Like car, like driver. Tony only does sake bombs.
11:45 pm I'm placing Monopoly Money on every single windshield with a Chance or Community Chest card. I make sure to place the "You Have Won Second Prize in a Beauty Contest" on all the prettiest cars and put "Get Out of Jail Free" cards on everyone who drove super aggressively. Someone has had a similar idea and a third of the cars have fake tickets underneath their wipers. At least I'm not alone.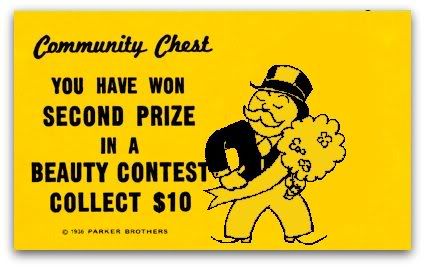 12:25 am It seems like every single rally team is out on the patio, drinking beer and cracking jokes. There is no power anywhere in the county and the rooms are hotter than hell. This complication, in most circles, would raise tempers across the board. That's not happening tonight. Dustballers are bonding. Everyone is having the time of their lives.
12:40 am Team #17 in the Vette Z06, Team Siebzehn, is speaking in full German accents and are swimming in the excessively large fountains outside our rooms. Speaking German, wearing Speedos. "Dammit, they beat me to it again, and found a way to make it more European!"
2:05 am We are passed out, cellphones dead, no air conditioning, and no power. Day 1 of the 2012 Dustball Rally was complete.
Thank you for reading "BLASTOFF! The 2012 Dustball Rally Speeds Past Day 1″

Please share this with your friends and check us out on social media.
-Sports Car Hunter Ry