Oysters, Beignets, & Bourbon – The Final Day of the 2012 Dustball Rally
by
sportscarhunter
on
Sep 6, 2012
•
8:45 pm
1 Comment
Over the past few weeks, we have shared a bite sized history lesson about the 2012 Dustball Rally. We hope that you've enjoyed this absolutely fascinating ride.

This is post 5/5 covering our participation in the 2012 Dustball Rally.

8/3/12
7:00 am It is Day 3 of the 2012 Dustball Rally. No one dares light a match – half the teams may combust after the night everyone just had on 6th Street. Teams are gathering on a garage rooftop in downtown Austin, Texas. Team SportsCarHunter isn't among the living right now. No, we are nowhere to be found.
7:35 am RRRRRING! RRRRRING! RRRRRING!
 "Uhhhello?" Marcus mumbles into the hotel telephone.
An ominous voice is on the other line. It is yelling at us. We can't make out the words, but we think the rally just left.
7:40 am "Who's bright idea was it to leave Austin at 7am? I mean really? What are these people made of?!" I am ranting to no one in particular in a very, very hot shower. The hotel room is turning into a sauna. New Orleans is over 500 miles away. I need to sweat excessively.
7:45 am My cell phone is ringing, "Dude, we forgot a bag in our room. Can you pick it up for us? Door should be unlocked." #96Bentley Bros have forgotten their shit after waking up at the crack of dawn. They're getting breakfast and plan on riding with us, in the #85 Z4, and our teammates in the #26 Vantage into New Orleans.
"Marcus, I remember coming back with the #14 G8, #96 Bentley Bros, and #99 Charger teams…but where were you and David?"
"Dude. I. Don't. Remember." Marcus croaked "Water. I need water."
7:50 am I am tweeting "Oh shit, where is Dustball Rally?? MO MONEY MO PROBLEMS!! We got pastel money. It's cool." It really wasn't.
I recall some teams hinting about Day 3 being, "the only finish line that mattered". Was that the clue these veterans had been hiding? It's all cordial fun until the finish line?
We had to get the hell out of Austin.
7:55 am We are on the elevator with bags everywhere. We look terrible, probably smell worse. A cute couple who has to painfully share the ride with us comments, "Bavarian flag, nice!"
"Jaaa, Herr Marcus loves zeee pretzels un Austin! You look like Volksvagen material! Do you drive a VEEEE DOVULEUUU on zee Autobahn??" I reply.
"No, but I am from Berlin." The man responds.
It's real awkward. Real fast.
8:08 am I'm calling out Team Flat Out in the #41 335i on Twitter, "Y'all should've stayed out later. Wimps."  I am a fool for making fun of them. They actually made the start. The early birds of Day 3 are 30 miles ahead.
"They're in a large enough group where they can own the road and snake past slower traffic" Analyzes Marcus "They have strength in numbers."
It would be near impossible for us to catch up.
(look closer for emphasis of our situation)

8:20 am We are leaving three teams to battle for last place. There's the #00 Aston, the #13 Cobalt, and lastly the #76 WRX STI, which is covered bumper to bumper in soft-core porn. Hilarious.
"Whoever did this had to of been still wayyyy messed up from the night before." We say in unison.
An hour after the rally officially departed, we follow suit, winding our way to the bottom of the garage.
"Dammit! I left the parking ticket in the room." I curse, gunning the engine and sliding the car underneath the garage gate. The #85 Z4 barely makes it underneath.
8:24 am For the third straight day I am wearing my Cannonball Pilot uniform and Marcus has his leather racing cap and driving goggles on. There are two women staring at us as we are leaving the parking garage in a flurry of burnt rubber and Monopoly Money. Talking Heads' Naïve Meoldy "This Must Be the Place" is blaring out of our roadster's speakers.
"Feet on the ground
Head in the sky
It's ok I know nothing's wrong . . nothing"
I pull the car up beside the two women.  Within seconds we are a hung-over Gordon Gekko and Bud Fox, tossing armful after armful of Monopoly Money at them.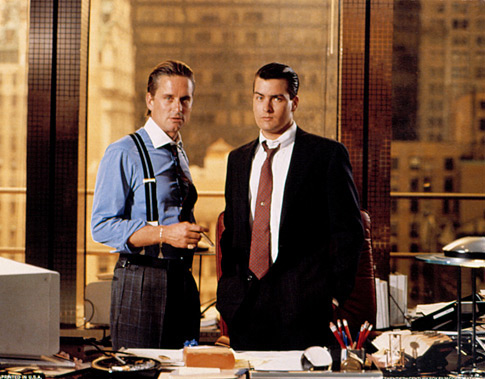 "Never for money
Always for love
Cover up + say goodnight … say goodnight"
Halfway through the song we switch to Mardi Gras beads. A crowd is forming around our barrage of colorful rally essentials.
"Feet on the ground
Head in the sky
It's ok i know nothing's wrong . . nothing"
8:28 am Our cabin is empty of all rally ammunition. The song finishes. We finally leave the hotel rotunda with a massive party path in our wake. "Congrats," Marcus chuckles, "We just kept Austin weird!"
8:29 am We're pulling into a gas station just down the road. Our teammates, David and James, are fueling up their #26 Vantage.
"Yo! What's happening guys?!" David asks in his typical jovial tone, still looking three sheets to the wind.
"Nothing man, we had the strangest thing happen to us this morning. Someone called our room. We have no idea who they are or what they said. It's a miracle we're even awake right now!" .
"Ha, that was Pops, he's a hawk! Woke up earlier than I did and he got home later than us! Even after the race!"
"Race? What are you talking about?" I ask, confused.
"Marcus and I paid two pedicabs to race from the bars on 6th Street last night. We had to pay each dude like fifty bucks in order to get them to do it! It was like being a jockey! Those guys hauled ass!" David laughed.
6th Street turns in to a pedestrian walkway for several blocks on weekends. One way for tourists to get home is to be driven by a man on a bike, horse and buggy style.
"OH YEAHHHH! That was how we got home last night!" Marcus remembered "I lost because my driver couldn't comprehend what a rally was! He had NO HORSEPOWER. I tried speaking German to him and he didn't like that AT ALL! Dude just didn't get it…"
8:32 am I am placing a Dustball Rally sticker next to the pump and peel out of the gas station. For the first time in four days I don't spill Marcus' coffee. He nods in appreciation.
8:35 am We are traveling on Austin's famous double-decker highway. In 1975 a 2-mile set of elevated express lanes were added to I-35. There was no room to build out, so the city was forced to build up. The lower features short on- and off-ramps with limited visibility. The upper ramp features expansive views, lighter traffic, nicer cars, and the opportunity for a Dustball Rally roadster to unload on the economically depressed underneath them.
"Clearly all the rich people ride on the top." I explain. "Up here, we have a better view, are away from the dangerous traffic, and can look down at everyone below us and call them names. What they really need to do is license cars to be up here, line the streets with gold, put flatscreens with SportsCenter on the side of the road, air condition it, etc…"
This explanation is far too long for Twitter, so I decide to tweet, "I like Austin hwy's. Rich ppl go higher, poor ppl go lower. Monopoly money floating down to the masses."
A pastel blitz is flying out of our hands and raining down fifty feet on those driving the lower slum highway. We do this for two straight miles.
8:37 am Team W0T's driver, Blake, has just sent us a tweet about the #76 WRX STI covered in nudie photos, "Nice!! Can't wait to see it, still in bed haha. See y'all in NOLA!"
"Are they seriously just waking up? They might as well hand wrap their finishing place to someone else. We are not finishing behind the main pack." I declare.
8:59 am We spot Team #96 Bentley Bros in their sleek black Continental GT. "Now we have a pack!" Marcus exclaims, as they join up with our #26 Vantage and #85 Z4. He's still giddy about driving with a Continental.
Rallying with only two cars can be dangerous. There are only two outcomes – you go entirely too fast or you go entirely too slow. With three cars, like we have now, the dynamic changes. You're able to attack the pavement, knowing that there are at least 12 eyes on the road looking for opportunities to bank time.
9:11 am We are discussing the two days in New Orleans ahead of us, "Oysters, beignets, & bourbon!" Marcus explains. 
I agree wholeheartedly. We finally have some momentum. We're passing a hell of a lot more cars than we should be. We are catching up.
9:36 am A nice Ford Mustang Shelby matches our pace for a few miles.
9:40 am Unfortunately the Cobra isn't rallying and can't keep up.
"They need a lesson from the Dustball Mustangs!" Marcus scolds, throwing out some Monopoly Money at the wasted horsepower.
10:05 am We are stuck in monotonous traffic. The delay offers us a chance to study Twitter and figure out how far behind we really are.
 "60 miles behind first place…Do we stick to the route or haul on the highway to catch up?"
The highway presents a strange opportunity. We could travel in a more direct route but it would inevitability be at slower speeds and heavier traffic than the back roads taken by the rally.
"Highway." Marcus responds unquestionably. He sounds like shit and we would never catch up going the costal route.
10:19 am After another Twitter check, I exclaim to Marcus, "The #77 Camaro stayed back in Austin to help get the #51 Lambo repaired! There can't more than ten cars ahead of us! This is still possible!"
This turn of events energizes Team SportsCarHunter. Less than two hours ago we were 4th from last. Dustball Rally finish line bottom feeders. Now, with at least a quarter of the rally still in Austin, we had a shot.
11:38 am I get word over social media that, "They're converting the #51 Lambo from four wheel drive to rear wheel drive."
I'm getting the distinct feeling that the broken down Italian/German Gallardo has made my codriver rather upset. I open up the glove box and show him a hidden cache of Monopoly Money. Marcus' mood instantaneously improves.
11:57 am We are 70 miles behind the lead pack after taking a lunch break to meet up with Marcus' family just outside of Houston. We are all happy to have the half hour rest and Chic-Fil-A in our systems, but all our banked catch-up time has been erased.
12:45 am "Bentley Bros are taking a wrong turn!" Marcus points, as the black #96 heads downtown Houston.
"Given their twin turbo, we'll see them in no time!" I reason after reading their text to go on ahead.
1:48 pm The Dustball lead pack is hooning it up on the beach. They're busy taking wide angle shots of rally cars.
Team Siebzehn in the #17 Z06 is frolicking along the beach with their German accents.
I decide not to say anything to Marcus, in fear that he would rip the logbook in half at the news of those West Germans having so much fun.
2:02 pm The #26 Vantage & #85 Z4 are fueling up on the far side of Lake Charles in Louisiana as the Bentley Bros finally catch up, further emphasizing the issues of falling behind. We had not seen them in over an hour, even though they were driving a rally beast much more powerful than ours.
Bentley Bro's, Matt, is cracking three beers with the rest of the codrivers – Marcus and David, in addition to the onboard cameraman for this leg, Trevor. "Nothing out of the ordinary!" I say to Chris, the driver of the #96.
2:12 pm I'm adding it up in my head and can't believe what I am seeing. "Guys, we could be ahead of the pack at this point. We may beat everyone to New Orleans!"  By avoiding Highway 82, we were doubling the early birds pace.
2:15 pm I'm having a revelation. I don't really want to be all alone when we get to New Orleans. The most fun parts of the rally were riding in to El Paso with the DFW snake, hitting "Blastoff" with six other cars, and leading the attack on the twisties of San Antonio and Austin.
"Marcus, what if we pulled over just past Lafayette and waited for everyone else to catch up?" I asked.
He was napping. Again.
We had been fighting to place this whole rally. Should we really give up the opportunity for first?
3:40 pm The rain clouds are forming outside New Iberia, Louisiana – 130 miles outside of New Orleans. Our #85 Z4's miniscule 13 gallon fuel tank is running low, and we hadn't made a consensus on slowing down or speeding up.
Patrons are venturing out of a small gas station casino that we have parked at. They've apparently made bets on what type of cars we had. "We don't see anything very fast around here!" A local explains.
I'm busy looking up at the sky, it's bound to rain, but decide to throw more Mardi Gras beads on our roll bars as Marcus affixes the Bavarian flag to fly out the back of our BMW. It looks too cool to not add a little more. "Nothing's wrong with a little excess when it comes to New Orleans." David quips.
I ask, "We are 40 minutes ahead of the gulf coast rally teams. There are about ten cars on a ferry this way now. Do we wait or do we push into The Big Easy?"
Answer: Unanimous motion to wait. Fuck the podium finish. It wouldn't matter anyway if no one was there to see it. We would rally as a group.
The gulf coast group was just getting off their ferry.
4:23 pm I am Tweeting with Team Siebzehn in the #17 Z06, assuming they would be at the front of the gulf coast pack. This shocks Marcus.
I reason, "Team SportsCarHunter has given up the opportunity to come in first, so we might as well tear down the Berlin Dustballwall that's been created over the last few days. Plus, it was New Orleans…and they had Speedos. We didn't want to be targets!"
4:30 pm Teams #25, #85, #96 slice down a back road highway to intercept the Gulf Coast cars. It's like we took a RIDE ON THE READING by riding highways all the way here. Now we wait for the rest of the rally to PASS GO & COLLECT $200!
I set up a welcoming party by throwing down excessive amounts of Monopoly Money on the road. Confetti flies every time a car goes by. It's the perfect "Hello!" to everyone we're meeting up with when all of a sudden we spot the first cars:
The camera crew's red Range Rover flies by…
4:31 pm …Followed by the black Deanslist.US's #07 911.
4:32 pm I spy the blue #17 Corvette and am jumping out of the driver's seat to stand by the roadside. Finally, it took them long enough… I had been waiting two days for this payback.
I'm tapping my watch as they coast by – mocking the time discrepancies between their car and ours. "Herr Langsamrennendrivers!" I laugh to Marcus.
"Took 'em long enough!" Marcus laughs back.
4:34 pm After those first three cars passed, a handful of other teams round the bend: Team Flat Out in the silver #41 BMW 335i, Team Radar Love in the silver #43 Corvette, and Team Firestarter  in the red #66 Fire Truck.
"Was that all of them?"
"I don't know, I thought there were more!"
"Should we wait?!"
The #26 Vantage, #85 Z4, and #96 Bentley Bros are at a standstill.
I make the decision to haul ass. Just like that, we're behind again. We have to make up three minutes from a dead stop. Time to haul.
4:42 pm We are chasing behind, flooring it every chance we get. I get a message from Dan in the #41 335i "GUN IT! No enforcement for next 3 miles!"
90.
95.
I try to signal to the #26 Vantage and #96 Bentley Bros, but we're going too fast for them to understand what is going on.
100.
105.
Marcus puts down his binoculars for a second, "The road is open for the next mile."
115.
120.
I see the #66 Fire Truck's roof lights.
125.
130.
 "We'reeeee bacccckkkkk!"
5:13 pm The snake of Dustball Rally cars leading into New Orleans is now six deep, with the #43 Corvette spearing the way into the city. Our smiles are as big as they've been all day.
"There's something about owning the road with a group this size. We are 70 miles out. Less than an hour left. What a rally!" Marcus explained.
"I agree completely" It's all I could muster, my feelings being the exact same.
5:24 pm 400 miles away the pack that helped the #51 Lambo was just getting back on the road.
And just ahead of them is the rest of our original DFW group. The #76 WRX STI had some serious engine issues. "The video game may be over for Tony!" I joke.
6:09 pm "NOLAAAAA!" Marcus shouts, as we get our first glimpse of the city.
6:11 pm Our spiritsnare on another level. I'm holding out a handful of beads, letting the wind take them all over, when the #41 335i pulls alongside. They are driving Bavarian. They don't have German colored beads. I needed to fix this.
The logical thing would have been to set the cruise control at 85, match speeds, and pass 'em off. That didn't happen.
The beads are flying back, we have to get our cars within inches of each other to pull off the handoff and after 30 seconds of supremely dangerous driving, it's just not going to happen.
My contacts are about as dry as they could ever be and I am forced to look down, accidently pulling the wheel left in the process, nearly sideswiping our two cars in the process.
Just like that, the cars inched close enough for a successful handoff.
"Told you we needed to rally with those guys into New Orleans" Marcus mocked, nearly shitting himself from the sideswipe that just happened!
We pull ahead and in a flash throw out 500+ bills of Monopoly Money at the guys in the 335i in celebration!
VICTORYYYYYYYYYYYYYYY!
The #96 Bentley Bros see this and proceed to hit every. single. car. in our line up for the next ten miles. "It's like they've been stockpiling all the Monopoly Money we've given them!" said my, very impressed, codriver.

6:28 pm After a nasty standstill traffic jam, the #43 Corvette is leading the snake out of the highway traffic the and into downtown New Orleans. We caught up with the black #07 911, the blue #17 Z06, and red camera Range. It had been a foot by foot crawl for the last ten minutes, but now we're driving straight at the Super Dome.
"Is this planned?" I ask
"No, I think we're lost. And I love it!" Marcus smiled.
Each team is doing a lap around the historic Super Dome – a Louisiana icon unlike any other. It's known as the Mercedes-Benz Super Dome now, after purchasing the sponsorship rights in 2011. There are ads for Mercs all over the place.
"How about that SLS for 2013?" Marcus suggests, pointing towards a Benz gullwing advertisement.
"Giving up on her that quickly?" I retort back, tapping the dash on the #85 Z4. "I think she's become something else. I think this little black widow has earned at least another opportunity to rally with the best of them."
6:29 pm Our BMW's LOW OIL flashes for the first time, accompanying the CHECK ENGINE SOON alert that has been on since Day 1.
"Ha! She's telling me she needs a beer."
"Deserving of a keg at this point." Marcus nodded, finally agreeing that the car had transcended its bodywork.
6:30 pm I am in a daze. The past few weeks have been a whirlwind. From a dismantled engine on life support exactly one month ago, to a highway deer impact a week ago, and the 8,000 miles added to the odometer just to get here…I'm feeling a little mental.
"If you look at the facts and figures, you would take something else." I explained, pointing out that a BMW Z4 is not at all the ideal rally car. "The gas tank alone can't hold more than an eye dropper…"
"Honestly, facts and figures would be against most of the cars on the Rally. Everyone doing the 2012 Dustball is insane in their own right." I continue.
"We are all just looking for deserted perfection on an open highway…looking for a few sports cars ahead and a few more in the rearview…looking for our limits on asphalt spaghetti…looking for the rush of going a little too fast…with enough of the same people to make us feel normal while doing it."
In this moment I fully accept that we weren't going to be the first to the finish in New Orleans. No, what mattered now, in this bumper to bumper downtown traffic, is finishing alongside our teammates in the #26 Vantage.  It was all about who you started with, and for us, that was David and James.
6:48 pm "Over there, at the valet!" Marcus is pointing across the street. They were at the front of the line. I dart ahead.
6:49 pm I pull even with David and James. They are beaming, "MADE IT!"
6:50 pm A Marriot employee is running beside the car, "DON'T MOVE! We have a parade coming through. Sit still. You are fine. They will pass right by."
6:51 pm I hear a familiar tune blaring from somewhere behind us.
6:52 pm An entire marching band is passing by on the closed street….
"Oh, when the saints go marching in!
Oh, when the saints go marching in!
Lord, how I want to be in that numberrrrrrrrrrrrr!
A few hundred people are either in the street tailing the parade, following along the sidewalk, or watching from a corner. Our #85 Z4 is in the dead middle of it all.
I find the beat of the drum and sing, "When the saints go marching innnnnnnnnnnnn!" while throwing a huge stack of Monopoly Money.
This gathers some attention around the car. Now I'm handing out Mardi Gras beads. Within fifteen seconds there is a run on everything not bolted down to our car. German beads are flying off the roll bars, stickers are being passed out, Monopoly Money is being thrown, and we are running out of koozies…
"Hey, you look fratty, you need a koozie!" I shout over to a college-aged guy dressed head to toe in pastel khaki.
"I have a koozie collection, 100+, SO DOWN to add another from all these sick cars!" He laughs back.
This dude was great…and it looked like there was 20 David/Marcus/Ryan's along with him. NOLA was going to be absurd if it had anywhere close to this many people who were as excessive as us.
6:56 pm I'm in line at the parking garage, waiting to get in. Every few minutes a handful of rally drivers rev their engines. We are a chorus of horsepower.
6:58 pm "Our fraternity is having their annual convention here in NAWLINS!" David exclaimed, explaining the koozie conversation I had a few minutes ago with the student in head to toe pastel khaki.
This meant that 500 fratty dudes would all be out on Bourbon Street the entire weekend we were here. "I better start rationing the koozies!" I shout back to David.
7:15 pm I'm parked to the side in the valet garage, cleaning out the car. It's an absolute mess. Two straight mornings of rapid exits, coupled with the mix of Monopoly Money blitzes and bead throwing of the past day has left the BMW in a state of shock.
I'm working through each nook and cranny. This BMW is not a big car, but we fit a lot in to it. I notice a few of the teams coming in, one by one. I say hello to as many as I can, trying to savor the moment as long as possible. We all deserved a pat on the back.
7:40 pm I was reminded of the many rallies and automotive races I've followed over the years.  What always impressed me the most, beyond absolutely anything else, was the state of the cars at the very end.
If the cars aren't outright wrecked they'll have bugs meshed to the grill. The paint around the exhausts will be scorched black. There may be pieces missing or burnt straight through.
There might be a rim with a lick of road rash all over it.
There could be road tar splattered across half the windshield. The car may look a little battered but it's still standing.
Proudly.
I went on to photograph every angle I could, documenting the evidence that driver and navigator had pushed their rally car to the limits.
Team SportsCarHunter's #85 BMW Z4 3.0si had completed the 2012 Dustball Rally.
EPILOGUE Part I – Rooster tails in the rain.
I was literally drenched in sweat by the time I finished cleaning the car out…but damn did the #85 look good. There were bug-impact craters from headlight to headlight. A rouge strip of tar covered up the vinyls on the windshield. A piece of the inner wheel well had gone missing, lost somewhere over the last thousand miles. A back rim oozed something black. The replacement hood badge still didn't match the rest of the car, evidence that we had pushed it from the very start. We had rallied hard, the car showed it, and I loved it all the more.
The DFW rally group was having a drink in the busy Marriot lobby whenever I finally walked in.
 "Did you really throw Monopoly Money down at the people on the lower highway in Austin?"
I smiled, pointed to my green "Show Me the Money" Mr. Monopoly shirt, and laughed.
The rally had been one hell of an exercise in persistence (to even make it), nerves (to survive it), and the unexpected (to become friends with so many other crazy people). I wanted to sit down with the guys and have a drink to talk about the final day but decided to retire to the room, organize everything I had taken out of the car, and get ready for The Swamp – a bar that Dustball had rented out for the night on Bourbon.
In this time of reflection I sent out an Official Announcement over Twitter, "Team SportsCarHunter WILL be "Adopting A Highway" immediately upon our return in honor of #DustballRally"."
You adopt a two-mile stretch of highway for a minimum of two years.
You agree to pick up litter four times per year (more in some areas due to traffic count)
Adopt-a-Highway signs will be posted with your group's name at your adopted section.
Adopt-a-Highway will provide your volunteers with safety vests, litterbags and safety training.
You bask in the glory of claiming a piece of Texas pride.
…and it will be sponsored by something creative – we owe the many roads of Texas and Louisiana nothing less.
The roads themselves were unique to each day: The open expanse of traveling west to El Paso, the Guadalupe Mountains at the edge of New Mexico to "Blastoff" on what seemed like Planet Mars, Texas on Day 1; the gut-check and grin inducing hills of the Texas Hill Country on Day 2; and the joy of rejoining a rally snake and the parade finish in New Orleans on Day 3.
It was nearly 10pm by the time I grabbed my Cannonball Pilot's hat, an armful of Mardi Gras beads, and Monopoly Money to head out the door. Bourbon Street was already an absolute mess this early at night. Our SportsCarHunter stickers were printed with the text "Destination Bourbon St" on them. We had arrived.
By midnight an entire block of Bourbon was covered in Monopoly Money.
Everyone on the rally had thrown out hundreds of thousands of dollars worth.
The road below us looks like a drunk version of Candyland.
Our British and German Mardi Gras beads ran out in less than an hour as well.
David and I had to go back to the hotel to get more.
The Swamp didn't seem to mind our mess (there's no such thing as littering in New Orleans) and we made sure to tip the bar accordingly.
The next day and a half in New Orleans went exactly as a day and a half in New Orleans should go.
During the day we walked around the French Quarter, at dinner we ate magnificent food, at night we took on Bourbon St…usually losing…but at least we had a great time doing it.
On the second night we found the DFW Dustballers huddled in the oldest bar in America. A grand piano played by candlelight as a dozen of us talked track days.
At 11 Team SportsCarHunter decided to head back to the hotel, but was forced to stop at only German bar on Bourbon – on principle.
Those two days saw us talking Dustball Rally to every stranger who would give us their attention as we placed our stickers on every post that looked unblemished.
On Sunday we left with a mixed group of Team W0T in the silver blue #00 Aston, Team Four Horsemen  in the silver #44 Ford Mustang GT,  Team Abilities Unlimited  in the blue #76 Subaru WRX STI, Team Rush Hour aka Bentley Bros in the black #96 Bentley Continental GT, and lastly Team Siebzehn in the blue #17 Chevrolet Z06.
It turns out Siebzehn's Jeremy and John Paul are great guys. Their Bavarian eccentricities are unrivaled – even by native Germans. It wouldn't have been anywhere near as much fun of a rally without the cat and mouse game of their goofiness and Marcus and I's obsession with everything Autobahn. We just hadn't had as much time to hone in our accents or tone up for Speedos. There may be a joint coalition in the future, if they ever decide to ride in a properly engineered car. Again, Die Fienden Piloten be dammed.
We were late to leave the hotel on Sunday, again, but luckily got out of valet in record time. Our whole group took a lap around Bourbon Street at noon. Oh how the day changes. We threw out what beads and Monopoly Money we had left to those brave enough to be awake.
Half an hour west of the city we stopped in a small Louisiana town and ate KFC. I recall saying, "I will order a chicken pot pie and simply pour it down my throat." I could barely talk, the rally had sapped my abilities to even eat, and it was time to go home.
At a nearby gas station Tony, of #76 WRX STI fame, helped out our LOW OIL warning by passing off some of his extra motor oil. His, now weakened, Pokeball Blue Fury WRX STI had needed an oil top off every hundred miles. Without his aftermarkets working right though, he had extra to share.
When we jumped on the highway, at the end of the line, just behind Siebzehn's #17 Z06, my dash blew up like Christmas and the engine slowed to a crawl. We told the group to rally on ahead. It would be 40 miles until the straight six farted and we got above 4000 RPM.
Storms hit across western Louisiana into Texas the entire day. It's a quiet car ride back to DFW. Finally alone. Under the speed limit. Rooster tails in the rain.
EPILOGUE Part II – An insult to everyone who can't afford the option.
When I first heard about the Dustball Rally, there was no, "No". I had to do it. I had to have my friends do it. I was tired of being able to press the reset button on my Playstation. "No more excuses, it was time to Rendezvous" I recall telling all my friends on a winter evening many months ago.
Out of all the races, movies, films, documentaries, articles, and stories about open road revelation – Rendezvous reigns supreme.
The film, C'était un rendez-vous, is a simple nine-minute early morning drive through downtown Paris filmed in 1976. It begins in a quiet tunnel where you, the viewer, are immediately assaulted by a revving engine, shifting, and the reverberation of squealing tires against the cobblestones. Pedestrians scatter like pigeons as red lights are ignored and one-ways are assaulted. Center lines don't matter in Rendezvous, and the rush of emotions during these 500 seconds nearly put me into a coma.
The film was so controversial at the first screening that director Claude Lelouch was arrested. As such, copies of the run were rarely available, and if so only on the black market for $100's of dollars. In 2003, 27 years after filming, and six months of difficult talks, Rendezvous had a limited print run on DVD.
The 72 hours, that's all it "officially" was, of our Dustball Rally was the juice spun from the pulp of Rendezvous itself. I've tasted that nectar, and let me tell you, it's damn good.
Have you ever assumed that a car was something you just bought and drove within a given set of limits such as traffic law and your driving kill? The Dustball Rally, Redevous, and Alex Roy's The Driver are here to show you that a car can be something else, and way more than, as many people joke, an expression of the owner's manhood. A car isn't just an expression of our taste and finances.
"How many times have I walked past Cipriani on West Broadway, home of innumerable husband-hunting, fake breasted girls who work in public relations, only to see a handsome young banker pull up in a brand-new red Ferrari 360? The model/actress swoon. The driver sits with his friends and explains the options he chose this time – carbon brakes, racing exhaust – and how he couldn't get it exactly the way he wanted. He talks about how fast he drove downtown from the Upper East Side, four miles away. His friends are impressed until one remarks that he's soon taking delivery of the even newer F430. "A lot more power," the friend brags, flashing his Panerai diving watch and smiling at the girls at the next table. "You should order one." The 360 driver smirks with jealousy, knowing he will when his lease runs out.

Not one of these people will ever hunt, cave dive or race, or attempt anything that would endanger their purebred dog, Italian navy diving watch, or custom ordered car, let alone their own safety, unless well paid, forced, or shamed into it.

This is the message of Redezvous – it's not what you have, it's what you do with it.

Rendezvous demonstrated what one can do, must do, if one owns a car like a Ferrari. There is no dignity in bragging about one's car when it has never surpassed 50 percent of its maximum speed, or in comparing diving watches that have never seen the ocean, let alone a shower, or in driving to a restaurant where the girls see not a car but the promise of the rest of their lives pulling up in front of expensive restaurants in bright red sheet metal and tan leather. There is only the absurd cash outlay for the best engineering on four wheels, the question of what equally outrageous challenge it must be put to, and whether that test will be sufficient to please the god of decadence from whose domain the car has been borrowed. To do any less is far worse than wearing $200 sneakers for a pleasant stroll, or domesticating an animal meant to roam free – it's eating McDonald's in Paris, it's watching porn instead of having sex with one's girlfriend, it's returning from war with one's gun unfired. Such second-rate decadence is worse than bad taste. It is not a victimless crime. It's an insult to everyone who can't afford the option."
Have a lesser car? Can't afford something spectacular? Rubbish. Buy some bravery. Join a rally.
Thank you for reading "Oysters, Beignets, & Bourbon – The Final Day of the 2012 Dustball Rally"

Please share this with your friends and check us out on social media.
-Sports Car Hunter Ry
Tags:
aston martin
,
austin
,
bentley
,
big easy
,
bmw
,
bourbon street
,
bullrun
,
burbon st
,
cannonball
,
car
,
continental
,
dustball
,
dustball rally
,
dustballrally
,
goldrush
,
gumball
,
gumball 3000
,
gumball3000
,
louisiana
,
new orleans
,
nola
,
rally
,
rallypulse
,
texas
,
vantage
,
z4